You step into the cardio room like an Oscar-nominated actress steps out of her limo and onto the red carpet. Your hips sway with confidence, your lips eased into a relaxed smile. Nearby, the girls on the ellipticals have to do a double-take.
They think to themselves, How does someone really look that stylish at the gym?
Nope, this isn't a fantasy. Looking cute and working out isn't an impossible dream, it can be your reality!
Whether you're nailing a yoga pose or sweating up a storm with a HIIT workout, here are six ways to look fashionable while you exercise: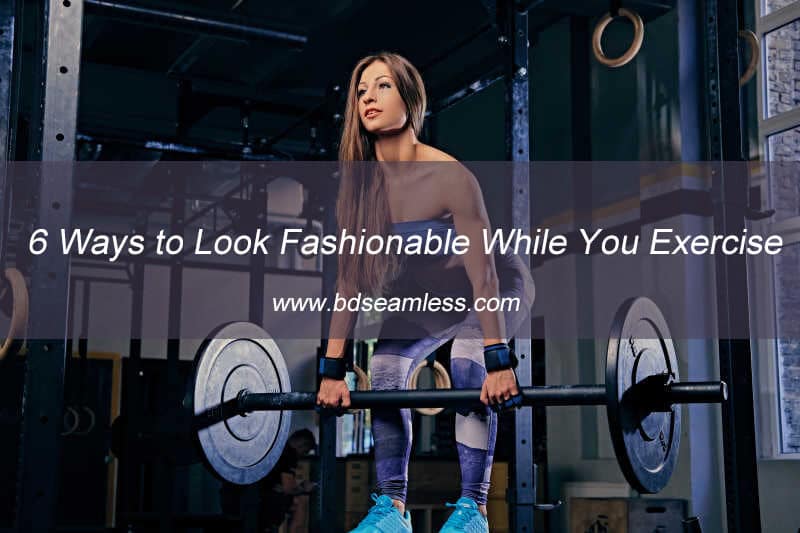 #1 Rock an Updo
Your hairstyle can elevate any workout look. For a hairdo that's fashionable and functional, try these styles for your next trip to the gym.
The BAMF French Braid – A messy French braid works for barre classes and weight training. The braiding keeps hair out of your eyes (or mouth) while playful wisps frame your face.  
The High-Intensity Ponytail – A well-placed ponytail is a powerful ponytail. To show off your stunning locks, tie up your hair between 7-8 inches from your forehead's hairline. The height adds polish to your look. Plus, you gotta love that awesome high ponytail swish when you get into your cardio groove.
A TKO Half-Down Topknot – Half flirty, half fierce, a half-down topknot keeps hair out of your face but maintains a feminine mystique. Just part your hair horizontally by the ears, tie up the strands into a loose knot or bun, and tah dah! You're ready for kickboxing!
Cute Fitness Tip: Are too many strands slipping from your braid or ponytail? Use bobby-pins to manage flyaways. A set of colorful bobby-pins can help you color-coordinate your outfits with your hairdo! Or, you can try a colorful work-out headband to keep your hair back and prevent forehead sweat from stinging your eyes. 
#2 Own Your Outfit
Your workout clothes should give you confidence and support as you push your body to the limits. That's why, when shopping for workout clothes or athleisure-wear, the most important fashion rule is fit.
If you had to choose between a simple workout outfit that fits you perfectly or an ultra-fashionable ensemble that was too tight or too large, which would you choose?
When faced with fit versus fashion, always choose fit.
Why? Because a well-fitting outfit will always look more polished and stylish than a poorly-fitted one.
Here are a few universally flattering pieces for your workouts:
A loose racer-back tunic with a peek-a-boo brightly colored braTie-front sleeveless shirt
Black leggings with patterns or cut-outs
Cute Fitness Tip: When it comes to workout clothes, bright colors are absolutely in. Look for multi-colored patterns and colorful solids when you're browsing through a store's Activewear section. That way you can mix and match across multiple outfits!
#3 Go for a Natural Makeup Look
There's nothing sexier than a post-workout glow. But with a little help from your makeup drawer, you can even give yourself a pre-workout glow.
Don't forget to apply blush the old-fashioned way—by working up a sweat!
All you need is:
Light gloss or tinted balmTinted sunscreen or CC creamWaterproof mascara 
Cute Fitness Tip: Drinking a ton of water is great for your workouts and for your face. Water nourishes your skin and prevents post-workout blotchy redness.
#4 Wear the Right Bra
Whether you're a cross-fitting babe or a HIIT girl, your body needs to move freely and comfortably as you exercise. The most common (and criminally) uncomfortable activewear piece?
The sports bra.
Too tight, too loose, or a bane to your shoulders, a badly fitting bra can ruin a great workout outfit. And if you're wearing a B cup bra instead of an A cup bra to your pilates class, you may be risking some accidental boob exposure.
Invest in a bra that's comfy, offers great support, and actually fits you.
Cute Fitness Tip: Most women have the basic black sports bra, but a bright colorful bra can elevate any workout look! Once you find your Cinderella-fit sports bra, buy one in every shade. Paired with a loose muscle-tank, a colorful bra is a fashion flex.
#5 Sweet White Kicks
Although bright colors are in, too many options runs the risk of color-clash disaster. Go for a pair of solid white workout shoes. White sneakers and workout shoes are at the peak of fashion and can elevate any mix of patterns or colors.
Just pair with below-ankle socks for a look approved by your fashion-forward friends and personal trainer.
Cute Fitness Tip: Workout clothes can be fashionable but first and foremost, they have to be functional. Shoes are the foundation of a functional and fashionable workout ensemble. Buy your workout shoes at a specialty sports store so you can find the latest in fashion and support.
#6 Excellent Exercise Accessories
Yes, it's true you can accessorize while you exercise. But don't throw your entire jewelry box in your gym bag. When it comes to your workouts, accessorize smarter not harder.
Fashionable workout accessories include:
Colorful workout bagsA patterned quick-dry towelA chic water bottle
A fitness tracking device or smartwatchSimple earring studsBallcaps 
A fitness tracking device or smartwatchSimple earring studsBallcaps 
With these six fashion tips, you can rock a run and a runway at the same time. Enjoy your workouts with style and confidence… and try not to check yourself out too much in the weight room mirrors!