It is popular to select fashionable fitness clothes from wholesale manufacturers. It is not easy to choose the best and accurate fitness gear. This is even more true if you are a gym owner and you have multiple members of different shapes and sizes exercising in the gym. You may have some members who care about their bodies, and they want their clothes to highlight their curves and cuts. At the same time, you may also have some members who have extra weight to lose. The clothes they want can make them feel comfortable and look good, but can cover their fat. However, as the owner, you need to choose clothes that can motivate your members to exercise and make it easy. This is where the fitness clothes wholesale manufacturers provide a large number of supplies.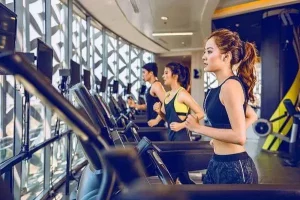 The perfect fit and fashionable design are what you get from fitness clothing manufacturers.
Nowadays, most fitness clothing suppliers are listed online to facilitate customer access and rapid business growth. Their series offers attractive choices for both men and women. There are men's short-sleeved and long-sleeved T-shirts, polo collar T-shirts, shorts, hoodies, jackets, tanks, caps and comfortable trackpants. For women, the bouquet includes charming tank tops, sports bras, cropped leggings and sports pants, yoga pants and shorts. Each product can be customized according to size, with rich colors.
Your gym will have a third department, which specializes in designing sportswear, aiming at new products on the market. If your members want to look like superstar, then choose compression clothes for them. Compression fitness clothes make the body look fashionable and completely slim. The manufacturers of new age fitness clothes have introduced compression sportswear, including knee-tight sweatpants, full-sleeve and half-sleeve shirts. For men, it can highlight their muscles, while for women, it can make their torso look stronger.
Nowadays, some well-known fitness clothing manufacturers display their products on their websites to enhance their online influence. They constantly introduce innovative and fashionable fitness clothes. They know the latest fashion trends and ensure that their products meet the needs and requirements of the public. Bulk order can be done by e-mail, through which you can get a package deal, as well as timely delivery and high quality products.