Custom Fitness Apparel Manufacturer With Unique Service.
Grey Ombre Leggings Manufacturers. Custom Heather Grey Ombre Workout Leggings Wholesale with Your Logo, Free Size, Multi-colors, High Waisted, Gradient Style, Stretchy Shape, Seamless Design at China Price.
Seamless soft fabric and a compression ribbed waistband for maximum support and body contour. With ombre finish so you can get it done in style.
The Grey Ombre Leggings are constructed with intricate seamless knitting technology to unite sweat-wicking with style.
They can be your lightweight second skin. Constructed for performance using super-soft yarns, its unique knitted contouring delivers the ultimate in shape enhancement.
Hermoactive fabric, flat seams and stretchy, soft material let you train effectively and comfortably. Excellent seamless knitting design is an extra feature if you want to enjoy an active life not only at the gym. Gradient Grey Leggings are the combination of a unique style and superior materials. That makes them a perfect choice not only for your workout but also for any other free time activities.
Fabric material: 35% nylon, 55%polyester, 10% elastane. The fabric allows your skin to breath, absorbs sweat and transfers it to the outside layer of the fabric that dries very quick. It helps keeping your skin dry and cool during your workout.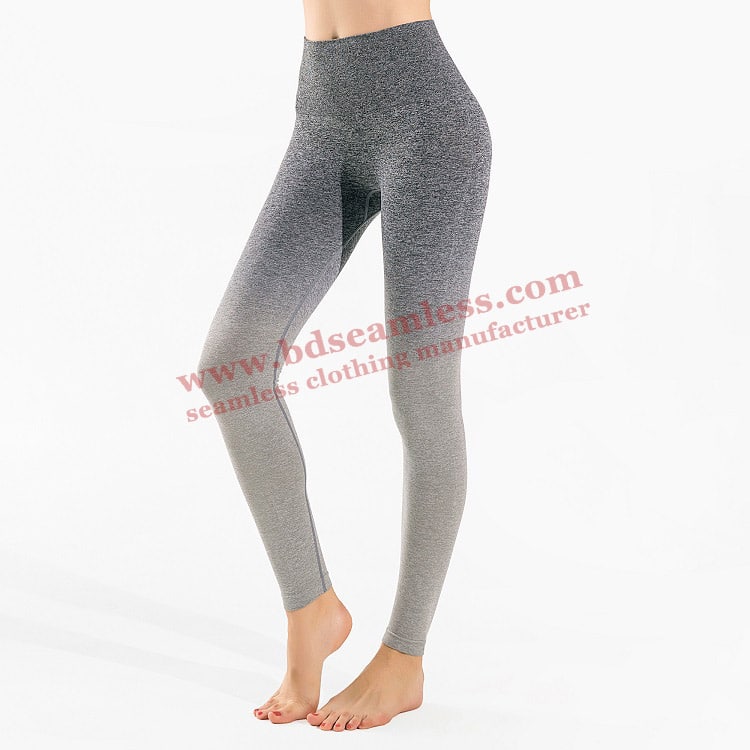 Comfortable use: Flat, specialized seams are stretching without constraining your moves. Seams don't squeezed on skin and don't scratch the body even with the greatest effort.
Breathable knit: Light and breathable Enduraflex is highly resistant to stretching and transfers moisture to the outer parts of fabric thanks to the unique polyester twill weave.
Non-see-through: The delicate knit has a unique, dense weave and melange structure, so no one can see-through even in deepest squats.
No pressure high waistband: Optimal waist height doesn't limit body movements and allows full freedom of training while keeping the leggings at their place without slipping off.
Other features:
Soft and fine high quality knit;
Intense colors;
Flexible, non-squeezing seams;
Fast-drying and highly breathable material;
Slimming cut;
Expressive, dynamic prints;
Mashine wash safe.