Are you worried about the visible panty line under your formal pants or slacks? Traditional underwear always has many sidelines after sewing. Seamless underwear and seamless clothing solve this problem. It also has the advantages of breathable, elastic, shape building, cost-saving, etc. Then, what is seamless underwear? Let's find the answer from the seamless underwear manufacturer's point of view.
Brief Introduction About Seamless Underwear Technology
The concept of "seamless knitting" was founded in the 1980s. In 1984, the Italian company Santoni applied for the patent of the seamless underwear knitting machine. Since then, seamless technology has been applied to the underwear field. In 1988, the Italian Santoni company continued to develop and research advanced technology, making seamless underwear products enter the market in large quantities.
At present, with the gradual popularization of seamless knitting equipment, combined with the technical characteristics of weft knitting large-caliber circular looms, with the maturity of modern computer automation control technology and the application of functional fibers in the seamless knitting field, seamless knitting technology has gradually matured and improved in the underwear weaving field. Its application field has been extended from simple underwear products to various branches of textile and garment products, and most textile materials including nylon, polyester, cotton, wool, silk and linen can be used.
Compared with seamless knitting technology, traditional knitting machines (mainly circular knitting machines, including multi-runway single-sided and double-sided circular knitting machines and electronic needle-selecting circular knitting machines) can only weave flat grey fabrics into rolls and then form finished fabrics through dyeing and setting.
What is seamless underwear?
Can you picture "a cylindric sock" in your mind? Seamless underwear could be imagined as a super large columnar sock, there are no sewing lines or cutting lines around the torso except for the arms and legs, no seam on both sides of the waist, no seam on both sides of the underwear.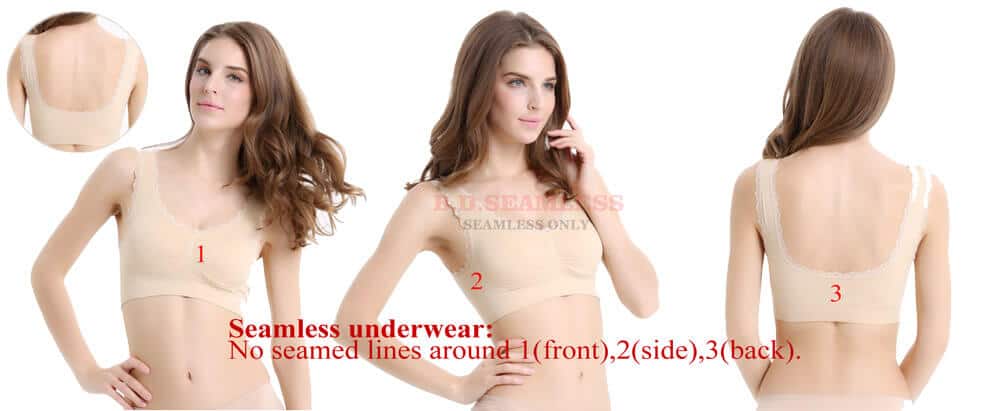 Seamless underwear usually refers to seamless panties, seamless bras and seamless shapewear. It is a kind of one-time shaping of seamless clothing manufactured by circular knitting machines. Unlike ordinary underwear, seamless underwear is made directly from yarn rather than lamellate fabric. (To see how to make seamless underwear)
The commonly used yarn materials of seamless underwear include nylon yarn, polyester yarn, spandex yarn, cotton yarn, etc. These yarns knit in the interior of clothing in order of longitude and latitude. After knitting, they will be sent for dyeing, simple sewing and packaging.
Wearers love seamless underwear for the reason that they can be forgiving, non-restrictive and are not binding. The dearth of seams gives improved ease and comfort as the body moves.
What does seamless underwear mean?
According to Wikipedia, "Underwear" is "Clothes worn next to the skin, underneath outer clothing". 
So, we can define Seamless Underwear Meaning as Seamless knitting clothes worn next to the skin, underneath other clothing, and are made by a circular knitting machine with seamless technology. There are no seamed lines around the main body of the underwear as the above picture shows.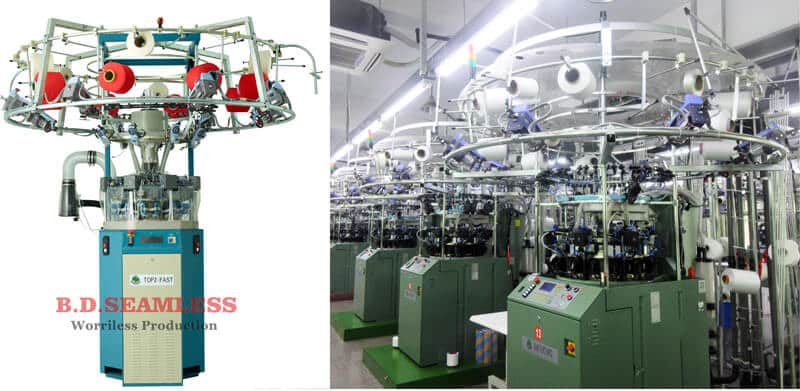 Is seamless underwear completely seamless?
The answer is "NO".
Basically, all clothing needs to be sewn, which inevitably results in more or less sewing lines.
"Seamless" is relative to the concept of "Seamed". Its main body is entire and seamless. The crotch of panties, the limbs of tops, the straps of bras all need to be sewn primitively.

So, once you find some seam lines on the seamless underwear you just bought, never say that an underwear shop is a fraud. He is really wronged!
What are the biggest differences between common undergarments and seamless underwear?
1, Facade
There are no sewing lines and threads in the main body parts and the waistband bottom of seamless underwear.
2, Custom-made jacquard pattern
You might require to purchase an entire piece of existing jacquard material to make routine underclothing, and all the patterns have actually been chosen by the material provider. You do not get an opportunity to reveal your style skill even by yourself personal logo design products!
Seamless knitted clothes have actually currently resolved this issue. The jacquard pattern on seamless underwear can be tailored easily. You can simply send your preferred jacquard style to the producer and they will weave them on in the knitting procedure.
3, Production procedure
Routine underclothing is mainly stitched from lots of pieces of cut fabric, there are lots of stitches throughout the material.
Seamless undergarment is made straight from a mix of yarn products consisting of Nylon yarn, Polyester yarn, Elastane yarn, Cotton yarn, etc. These yarns are equally knitted in the interior of clothes in order of longitude and latitude. The semi-finished underclothing is similar to a big columnar sock.
Seamless weaving is synonymous with "comfort", which allows various natural fibers, man-made fibers, and synthetic fibers to achieve the best combination of applications. The seamless product fits the skin and seamlessly connects the neck, waist and buttocks, making it more comfortable and natural to wear.

Benefits of seamless underwear
– To Learn What is Seamless Underwear Better
 1, Future Trends
Fewer seams, it saves a lot of embarrassment. Seamless underwear also has the features of body-building, comfort, anti-microbial, suitable for fitness. These conform to the people who pursue a healthy, comfortable lifestyle. Seamless underwear will become the mainstream of the future underwear industry, with very high commercial value.
2, Cost Saving
The labor cost and the rent cost of the factory increased year by year, which can be said to be the biggest expenditure of the seamless clothing manufacturers. Seamless underwear is mainly made by a seamless knitting machine. It can save up to 30% on the cost of producing cut-and-sew underwear.
3, Consistent Quality
Seamless knitting technology began to develop in the 1990s, has been a mature process. Although a computer can't replace the human brain, its stable, precise and strong information processing ability is unmatched by the human brain. The seamless knitting machine controlled by a computer can produce continuously, stably, accurately and large-batch clothes with a lower defect rate. 
4, Flexibility of Motion
Seamless underwear supplies more freedom than any other undergarments. There is more elasticity and permits the body parts to relocate with freedom. Moreover, considering that there is no joint, the structure of the seamless clothing, is never ever an issue.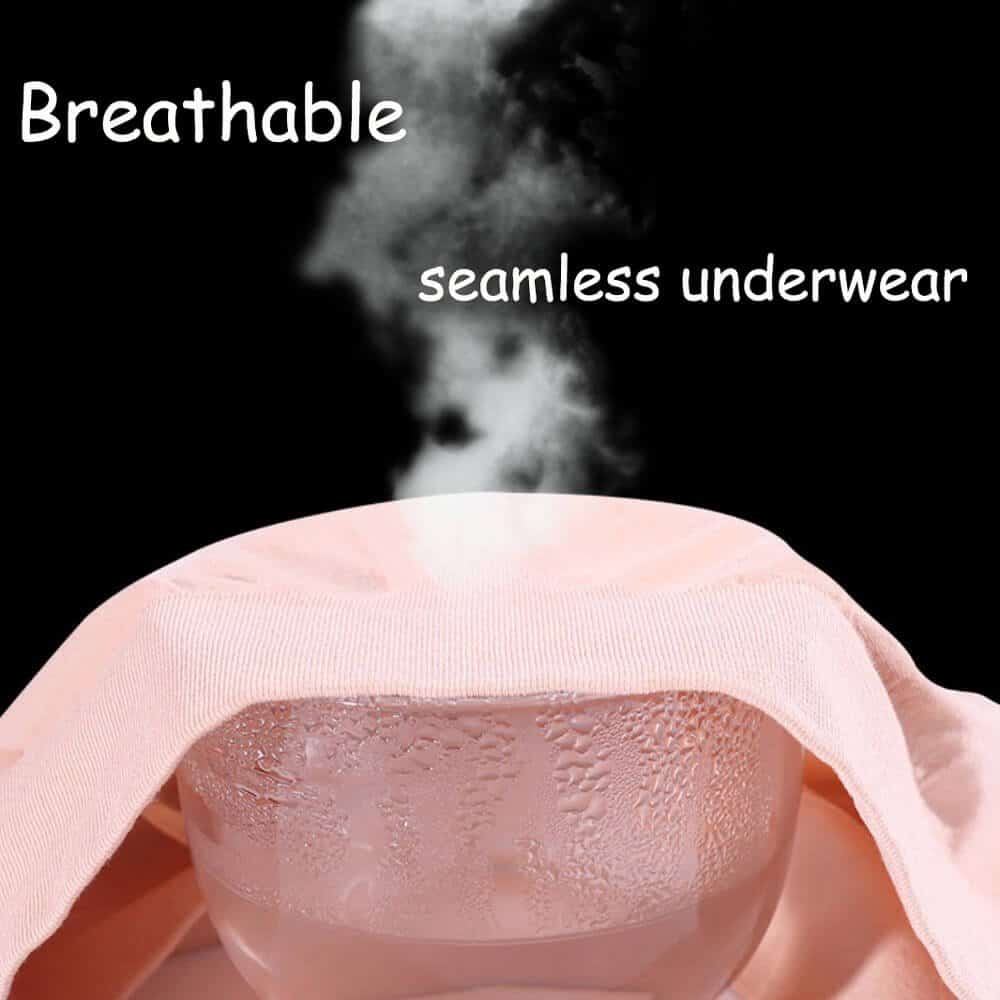 5, Breathable Fabric
Seamless modern technology is known for design extra comfortable as well as breathable garments. The air movement is far better than any other garment due to its visual health and fitness.
6, All-Way Stretch
Seamless undergarment stretches in all directions and also sticks to the body like a second skin. This allows the athlete to perform at his best adding agility.
7, Light-weight
It's a fact that seams bring weight. Fewer seams mean less heaviness. That's why when you put on your seamless bras or leggings, they feel so light and so comfortable. Light-weight apparel is ideal for workouts. When you're putting your body at its speeds you require space to take a breath.
Seamless underclothing is the ideal light layer that gives you support without really feeling heavy or bulky. Remain great and also comfortable throughout your session. Many fitness apparel manufacturers make it a comfortable and lightweight fashion.
8, Various customized design
There are a number of variations for routine cut-and-stitch clothes, and the creativity can just be shown through prints or the color block methods. That's a limit for designers.
With seamless technology, a set of seamless leggings can be woven already with its own patterns, complete with perforated areas, mesh-like areas. This is due to the fact that seamless garment knitting machines enable different knits to be put together side by side.
9, Casual collocation, ever-changing shape
The design of seamless underwear is very simple. It can be combined with any new fashion products to highlight each other's bright spots of clothes, instead of being the leader. You can have fashion style and street style, and you can release your beauty at any time. 
Two of the most important things to choose the right seamless underwear
Nobody wishes to feel their underwear pinching, drooping, rolling, or rising throughout the day since that suggests you're stuck moving them. Discovering comfy underclothing isn't hard once you understand how to get the best fit and select a great material.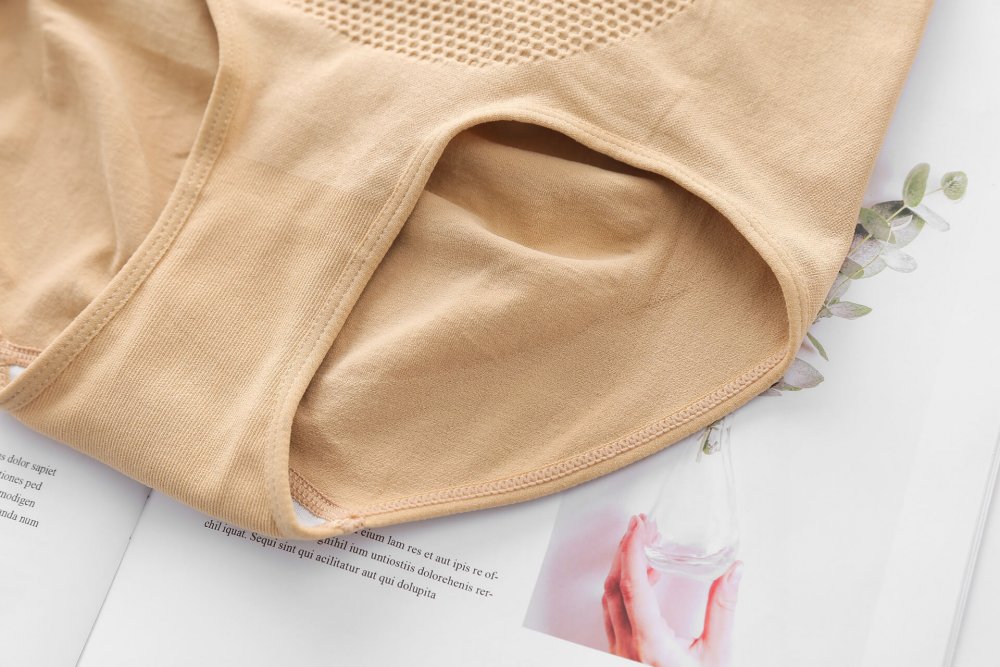 1, Selecting the Right Material
1) For the everyday dressing, look for seamless cotton underwear.
Cotton is king when it comes to comfy underwear due to the fact that it is breathable. Because of the possibility of yeast infections, cotton undergarment is an especially great alternative for females. Seamless cotton underwear is likewise less most likely to trigger chafing or rashes.
Think about the kind of underclothing identified as "seamless" or "no-lines." They do not have any flexibility in the hips or leg openings, making them perfect for fitted garments. A cotton lining in the crotch is very important for another factor: it's breathable. If the crotch lining is artificial, then you run the risk of trapping wetness, which can result in infections.
2) Do not always wear silk seamless underwear. Silk underclothing certainly has an elegant, attractive feel; however, it does not breathe as well as cotton. Just use silk underclothing on unique events for the comfiest feel.
3) For fitness or sportswear, look for nylon-spandex, or nylon-polyester-spandex blended fabric.
These blended materials have the function of stretch, moisture absorption and drainage, it maximizes dryness and motivation while exercising and working out.
2, Getting the best fit
1) Determine your waist and hips. You'll have the ability to discover the appropriate size for your underwear if you understand your waist and hip measurements. Utilize a measuring tape to determine your natural waist and the max part of your hips so you can pick the comfiest size for your body.
You can discover your natural waist by flexing sideways. A crease will format your waist to assist you to determine it. Keep the measuring tape parallel to the ground when you determine your hips.
2) Check your measurements to speak with sizing details. It's an excellent concept to determine both your waist and hips two times to make certain that you get the very same measurement both times. As soon as you have your waist and hip measurements, you can speak with the sizing details for any underclothing you're thinking about to guarantee an appropriate fit.
Inspecting your measurement is necessary since often you do not get it right the very first time. If your measurements are various on the 2nd shot, determine them a 3rd time. Among these sets ought to compare, so utilize that set of measurements when shopping.
3) Search for company flexible. Nobody wishes to be plucking their underclothing throughout the day to keep it from slipping or dropping. Select underclothing that has company flexibility in the waistband so you understand it will remain in location.
While company flexible at the waist is handy in underclothing, prevent designs with elasticized leg holes. They tend to bunch up, which can be uneasy.
4) Prevent seamless undergarment that's too tight. Underwear that's too tight does not simply cause uncomplimentary bulges and swellings underneath your clothes; it can likewise trigger skin chafing and inflammation from the friction. In general, any underclothing that's tight enough to leave marks on your skin is too tight.
Fortunately, seamless underwear has the basic parameter of elastic and stretch, so, it won't be very tight compared with other undergarments.
5) Look for bunching, rolling, or drooping. Prior to leaving your house for the day, it is necessary to ensure that your underwear is lying efficiently versus your body. Any set that lots, rolls, or droops under your clothes is going to be unpleasant since you'll be moving them to keep them from pinching your skin or dropping.
Not just can bunching underwear be uneasy in the long run, however, it can likewise look untidy and mess up even the very best attire. This is specifically crucial with gowns and skirts!
If your underclothing is bunching, adjust it so that it sits correctly on you. If it still lots, change to a various set. Bunching, rolling, and drooping is typically an indication of old, used underwear; it indicates that the material has actually lost its stretch and is now too huge for you.
Now, do you have a general understanding of what is seamless underwear? We will gladly share everything we know as long as you request!
The Future of Seamless Underwear
Compared with traditional underwear, seamless underwear is quite different. For example, the styles and patterns of seamless underwear are designed and molded once by special equipment. Because the production technology and equipment leave a lot of space for product design, the pattern style of seamless underwear will be constantly changing.
Seamless underwear is becoming more and more beautiful and attractive, and consumers' love for seamless underwear is gradually increasing. Under the seamless knitting technology, the types of seamless knitwear production equipment are becoming more and more diverse, and the ways to finish the pattern will be more diverse.
Under the brand-new production technology, seamless underwear is not only comfortable and close-fitting but also has the function of beautifying and shaping the body. In addition, there are some seamless underwear products with health care functions in the market. This type of underwear product is mostly made of functional yarns, and some materials with functions of perspiration, ventilation and antibiosis are adopted so that the added value of seamless underwear products can be improved.