How Can We Avoid Your Fitness Apparel Purchasing Headache?
B.D. Seamless always adheres to the principle of self-development, supplemented by the introduction of technology, and the strategy of co-development and improvement of technological development. It has been developing new fabrics that integrate comfort, breathability and elasticity.
B.D. Seamless has invested a large amount of funds each year to introduce advanced production and testing equipments from abroad, which has created favorable conditions for technological research and development. It has also formed a product development system that integrates product pattern design, product proofing and sewing.
OEM & ODM Technological Process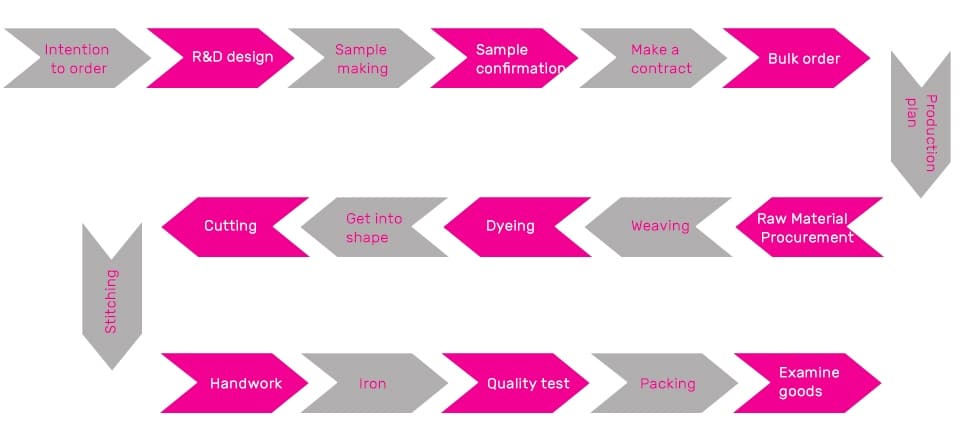 Quality is the life of the company. B.D. Seamless implements the ISO9001-2000 international quality system and strictly controls quality with comprehensive and healthy standards. The production process is equipped with professional QC prosecution and control, from the inspection of raw materials to the inspection of the production process, to the self-inspection of the production process, mutual inspection, semi-finished product inspection, factory inspection, and inspection of the workshops, and thorough checks are implemented.
Quality is the basis of the brand. For the characteristics of seamless underwear, B.D. Seamless has established a quality assurance system that meets the seamless apparel industry. From the introduction and renovation of advanced equipment to the hiring and training of professional and managerial talents; from the implementation of the regular meeting system to the implementation of training projects; from the inspection of raw materials into finished products and control of the entire process, to ensure seamless clothing for the company According to the standard production, ensure that the product quality meets the needs of consumers.