Also known as polyester fiber, polyester is the highest yield of synthetic fiber in synthetic fibers. It is divided into filaments and staple fibers. The biggest advantage of polyester fabrics is its great crease resistance and shape retention. 
The vertical section of ordinary polyester fiber is smooth, and has no streaks. And its cross section is generally round (as shown below).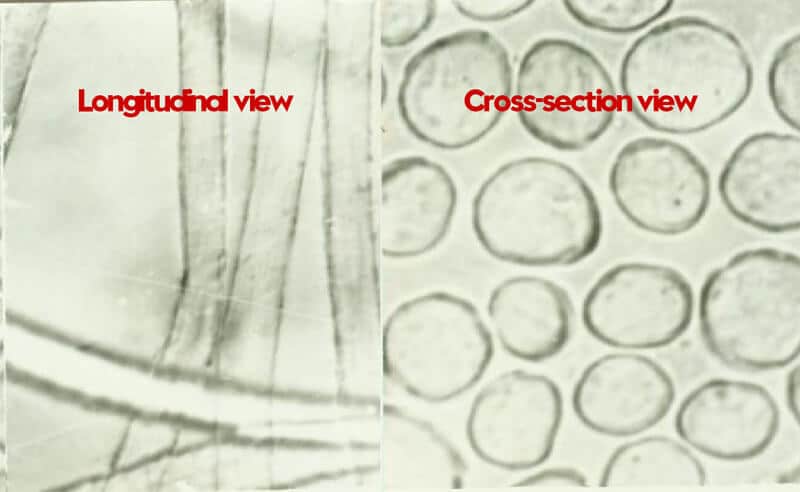 Let us see the advantages and disadvantages of using polyester fabric for seamless clothing.
Advantages of using polyester fabric for seamless clothing:
1. Good chemical resistance, acid and alkali could make little damage, and is not afraid of mold and insects.
2. Good heat setting performance, and the heat setting process can make the female underwear formed into permanent pleats and shapes, and improve clothes appearance and shape stability.
3. High strength and elastic recovery capability, durable, anti-wrinkle and non-iron.
4. Good light resistance.
5. Quick-drying and non-ironing after washing.
Polyester fiber can be used to produce women underwear for body-sculpting, body-shaping and shape-protecting, which can shape the curvaceous beauty of women.

Disadvantages of using polyester fabric for seamless clothing:
1. Poor moisture absorption. Easy to feel sultry, bring static electricity and be contaminated with dust.
2. Poor dye-ability. Dyeing is difficult without specific dyeing genes. However, the color fastness is very good and it is not easy to fade once dyeing successfully.
3. Easy pilling. As synthetic fiber product, it's easy pilling after a period of use. 
4. Poor melt polymerization resistance. Easy to form holes in case of sparks and smoke fly ash. Avoid being exposed to cigarette butts and sparks when wearing.