The manufacturing process of seamless underwear is different from ordinary underwear. It perfectly combined mechanical knitting and manual sewing techniques. This method greatly improves production efficiency and reduces material loss. You might wonder: How do they make seamless underwear? Now, B.D.Seamless- a specialized seamless clothing manufacturer will show you how seamless underwear and seamless clothing are manufactured.
The main 4 production processes are Weaving, Dyeing, Cutting and Sewing, Ironing.

1) Weaving
In order to satisfy people's pursuit of comfortable underwear, many companies continue to innovate and improve in terms of fabrics, craftsmanship, and design. Seamless underwear based on seamless weaving technology finds the best product interpretation for this demand. In the early 1990s, the Italian Santoni company created the seamless three-dimensional weaving technology, which is a complete subversion of the world's traditional knitting technology.
Weaving, also known as "knitting", it is the biggest difference between seamless underwear and other garments in the production process. The semi-finished fabric of seamless underwear is woven directly from yarn to semi-finished cloth by a machine, while ordinary underwear is cut out of the whole fabric.
Seamless underwear manufacturers use circular knitting machines to weave. The 4 most commonly used yarn materials are Nylon, Spandex, Polyester, and Cotton.

The semi-finished fabric woven from the underwear knitting machine is called "Blank cloth". Once a "Blank cloth" was born, it had to be rigorously inspected by a knitter. 
The knitter must ensure that the blank cloth reaches the standard weight and that there are no broken yarns, horizontal lines or yarn errors. Then he will pick out the qualified clothes and put them in the turnover box, for the next process – dyeing.
2) Dyeing
Dyeing is usually done in a professional underwear dyeing factory. A specialized dye factory will handle all your dyeing issue, and just go argue with them if there is a quality problem. Some underwear manufacturers have their own dyeing workshop and it does save some of the costs. The premise is that they have professional dyeing technicians and managers.
Dyeing is an amazing chemical process. Total 2,310 kinds of TPG color cards in Pantone can all be mixed up. Just let your clients choose the favorable color cards they like!
Picture2
Different yarn materials must reach the specified temperature before they can be dyed. Here is a simple table:
| | |
| --- | --- |
| Yarn Material Type | Colored Temperature |
| Cotton yarn | 80℃/ 176℉ |
| Polyester yarn | 120℃/ 248℉ |
| Nylon | 100℃/ 212℉ |
| Spandex yarn | Only can be stained |
| Polypropylene yarn | Usually be used as Dyed Yarn |
3) Cutting and Sewing
Seamless underwear doesn't mean it does not need to cut and sew at all (check "Is seamless underwear completely seamless?" for more information). The manufacturer needs to cut off the excess fabric along the cut line of the dyed garment.
Seamless underwear requires less cutting, they need not own any large-scale cutting machine. Even for bulk cutting, they just need to use small Electric Round Knife Cutting Machine for help.
Since the elastic feature of seamless clothing, sewing worker should be trained before they start work. That is, "Skill comes from practice".

4) Ironing
As with a sewed underwear, this is a routine step. For seamless underwear, high-temperature ironing has a shaping effect to a certain extent. Therefore, ironers should pay more attention to the tension of the clothing during ironing to prevent the size deviation of the finished product.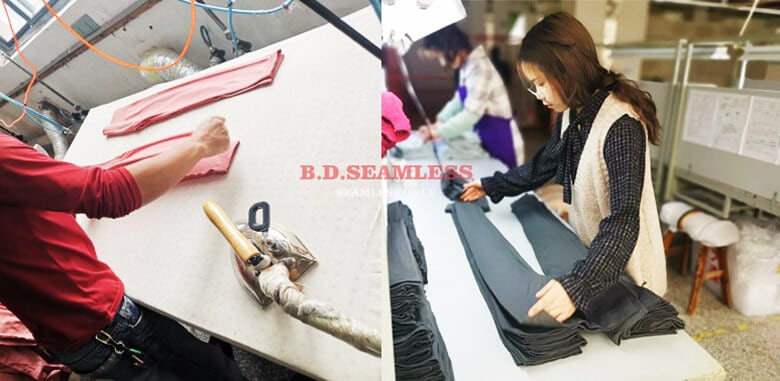 In addition to the above 4 production steps of manufacturing seamless underwear, packaging according to customers' special requirements is also an important step before shipment.