Polo shirts have always been a symbol of retro style. With the popularity of POLO shirts styles in recent years, various styles have emerged more and more endlessly. In addition to permanent business occasions, as a fashion accessory, polo shirts shine in various street shots.
For the fashion pioneers, the absence of a beautiful polo shirt means being left behind by the trend; for the elites, the lack of a polo shirt reduces the confidence in business negotiations.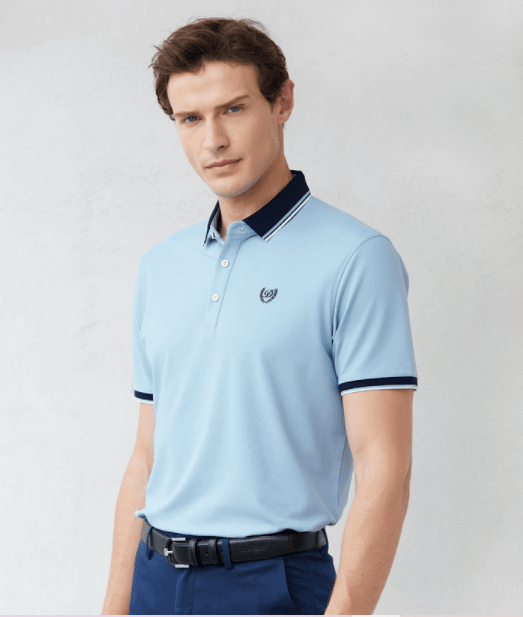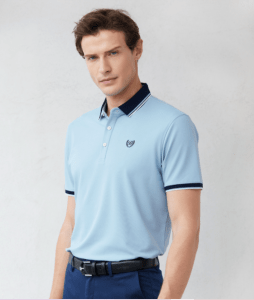 Appearing in front of the public with a brand-new attitude, what styles of polo shirts are popular at the forefront of fashion?
1, Pure Color Piqué Cotton Polo Shirt
The cotton content reaches 60% and it is skin-friendly, comfortable, smooth and breathable. There is no split on the hem, the fabric has good strength and stability, and it is not easy to be deformed after frequent washing.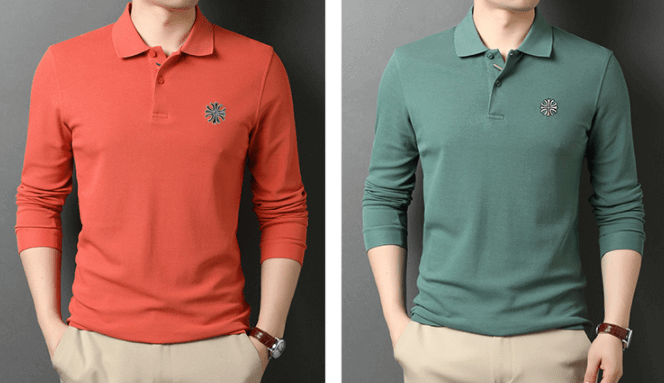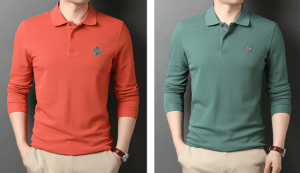 2, American Selection Polo Shirt
Pure cotton fabric creates the most skin-friendly and comfortable wearing experience. The hem is equal-length slits, leading the American retro trend. With high-quality cotton material, it is worsted by various techniques and soft to the touch.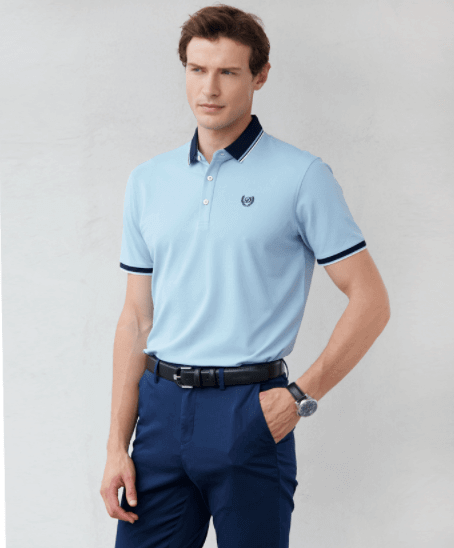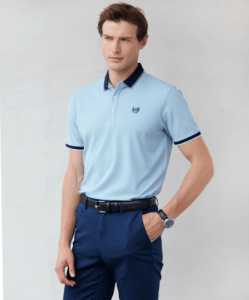 3, Business Flagship Polo Shirt
With forty fine yarns, it has perfect proportioning and double-sided yarn fine weaving. The shape of this stylish polo shirt is upright, the fabric is comfortable, wear-resistant and anti-pilling. No cover sweat, no wrinkle. The three-button design is dignified and elegant, and the eleven colors can be matched freely, which is suitable for various business occasions.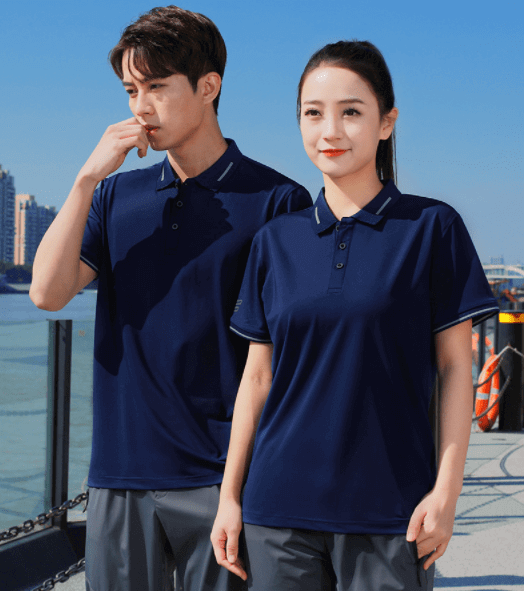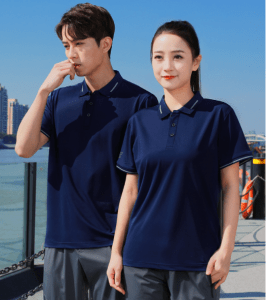 4, Simple Contrast Color Polo Shirt
Simple colors and slim-fit polo shirts styles show youthful vitality. Precise wiring, meticulously crafted details, firmness without thorny feeling. The collar and cuffs echo each other, and the thread and contrast color are combined, which is beautiful, comfortable and elastic.
5, Silver Ion Quick-Drying Polo Shirt
With combined British style and advanced technology, the exquisite fabric is very stylish. With German antibacterial technology, it has quick-drying perspiration, no bacteria, and dispelling odor.
As a seamless clothing manufacturer, B.D. Seamless strives to create quality services and high-end products. With the most complete printing technology in the industry, it has a variety of exclusive processes to achieve any customized needs of yours. The raw materials are carefully selected and the production process is clear to create high-quality products. A variety of polo shirts, T-shirts, sweaters and other styles are available for selection. For more information, please contact the customer service.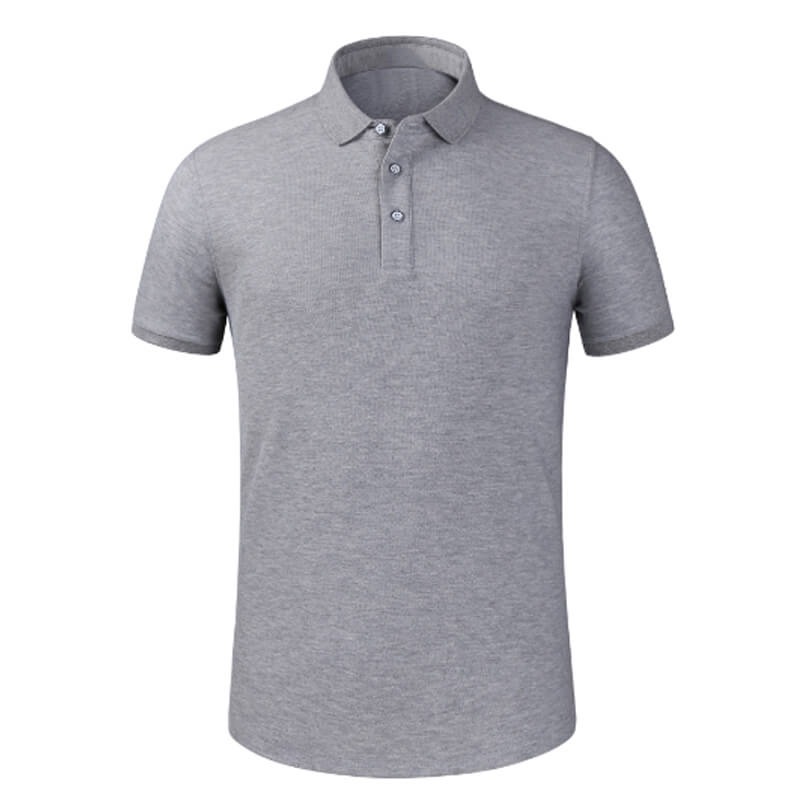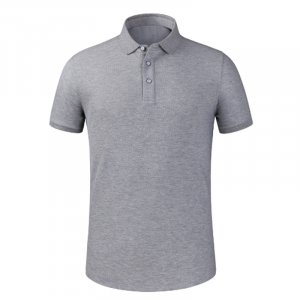 6, Japanese Lapel Polo Shirt
This Japanese POLO shirt has an iconic embroidered LOGO on the chest. The contrasting striped neckline is an iconic element to make the body less monotonous. Then, the creative monogram combination on the chest combines the modern street feel with the sense of age. The comfortable fabric brings an excellent wearing experience. It belongs to SAMESAME and is exclusively for Japanese boys.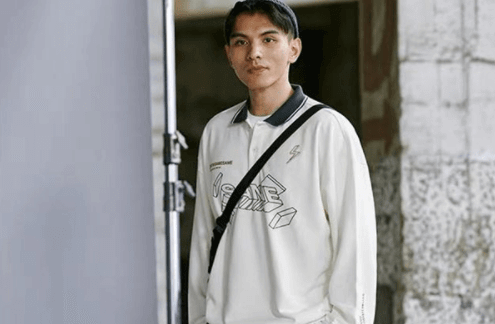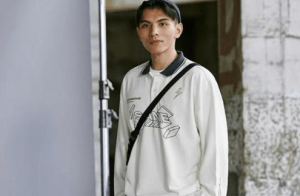 7, Classic Striped Polo Shirt
This one is made of BENT IDEA. The striped elements are reminiscent of navy style. It is refreshing and age-reducing. Based on the college polo shirts style of the 90s, the three-dimensional tailoring with heavy double yarns has a certain thickness and comfort. It is suitable for both men and women. should. From sports occasions to fashionable streets, polo shirts have always been the mainstream.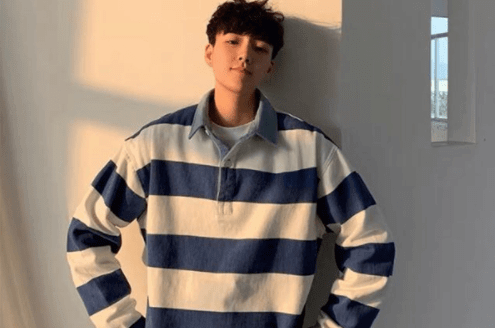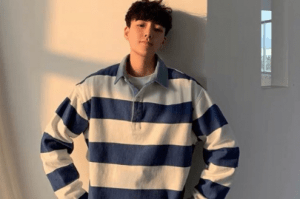 8, Basic Solid Color Polo Shirt
The most fundamental feature of low-key solid color is that it is versatile, and there is no restriction on matching. The buttons on the placket add a retro taste. In the 1980s, the polo shirt was an unbeaten classic. Now many trendy people use it to add to the streets. New ideas, just retro style, it is better to have a polo shirt!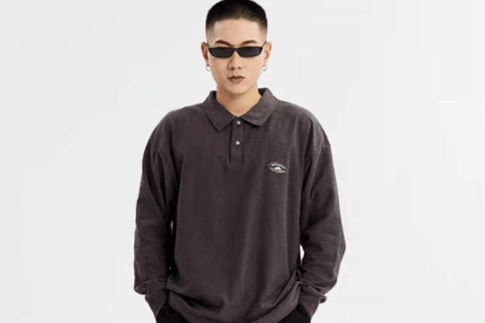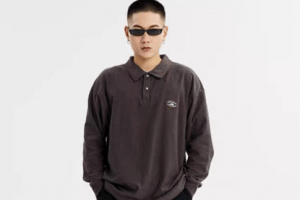 9, Long Dress Polo Shirt
There are many beautiful girls who prefer the improved version of the polo shirt. The lower body is made of shorts or safety pants. It is very suitable for summer. The style of sweet and cool hot girl comes out in an instant, and the neckline of the polo shirt is made. The white design makes the gray stitching noble and elegant.
Or a relatively simple short, short polo shirt has a hot girl style and pure desire style that is popular this year, while retaining a certain sense of retro, looking particularly sassy.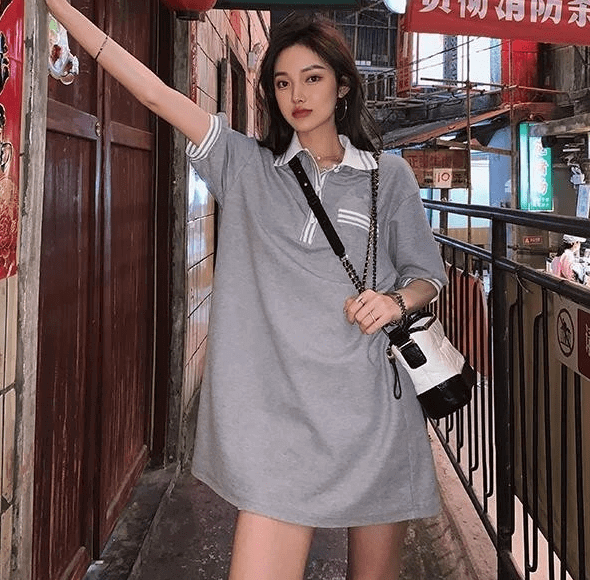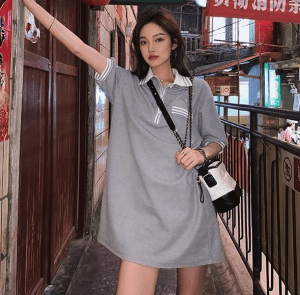 But you need to choose according to your body shape. Don't choose too ordinary, or don't force it if you don't have a good body shape, otherwise, it will overturn no matter how you match it.
10, White Short Polo Shirts Style
The collocation of the whole body white series will give people a kind of athletic girl style, and the memory also has a sense of playfulness and a little sexiness. The upper body is white, and the animal print style is simple and generous. It is matched with white buttocks. The skirt is loose and gets short and lengthened between the top and bottom, which has the effect of lengthening the height.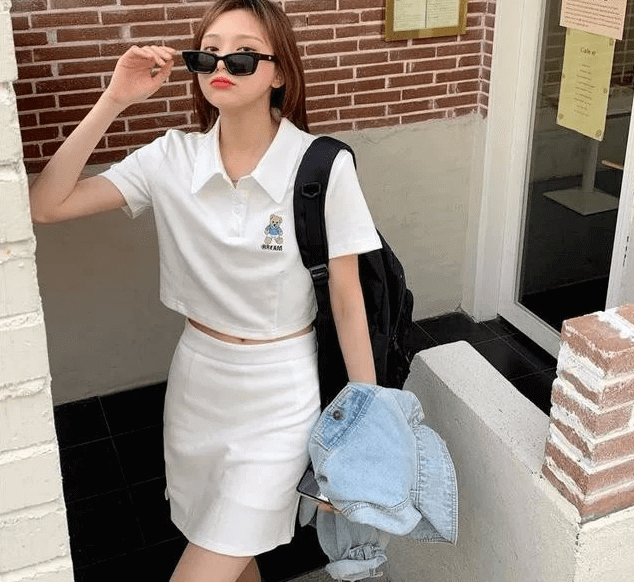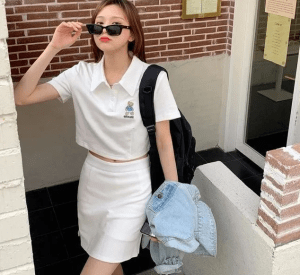 11, Colors And Patterns Polo Shirt
Most girls wear solid-color polo shirts, without any patterns, and maybe stitched styles. This type will be more popular because it is relatively simple to match and has certain advantages and disadvantages. For color For girls who are not sensitive, the colors they choose are too mediocre. The combination is simple, and there will not be too much splash.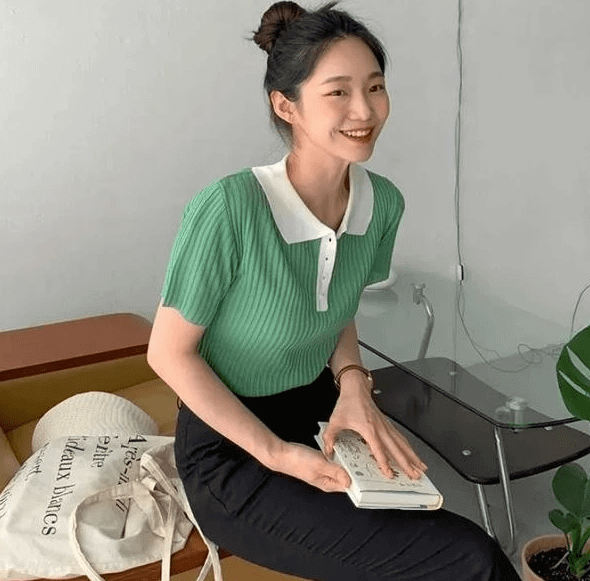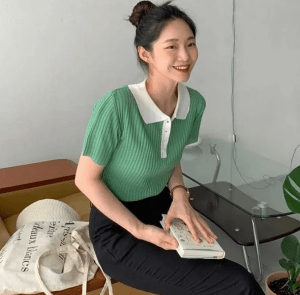 12, Black And White Stitching Polo Shirt
This kind of simple black and white stitching is very suitable to create a high-cold breath, with a light and familiar style, but it is not gentle, but gives a sense of cool goddess. The lower body is a white skirt. There will be a very high temperament and a good sense of atmosphere.
If you have a certain level of wearing skills, you can try the different colors of the neckline and cuffs of the contrast color system. This color system has a sense of ice cream, and it will have a young and fashionable feeling. For example, this kind of splicing between blue and pink, in the process of matching, the color echo effect is very good, the pink hair band and the pink on the bag have a certain echo effect on the color, which looks very It's not bad.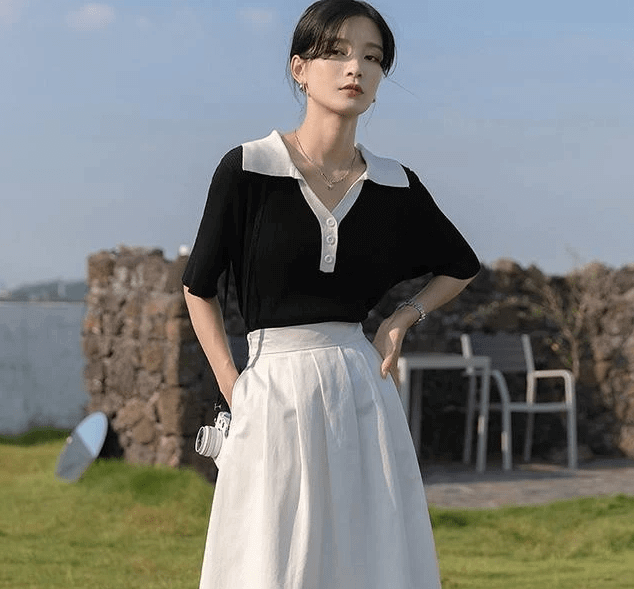 In addition to solid colors, those with patterns and colors can also be subdivided, such as the most classic striped styles and plaid styles. These two styles are more classic fashion elements. You can't go wrong and look. It's extremely elegant and atmospheric. It is still not recommended for girls to choose too fancy polo shirts for matching. If you like to have patterns, this classic style is the best.
13, Striped Style + Shorts Polo Shirt
The striped style polo shirt is very classic. It is matched in summer. It has both colored intervention and white fusion. The stitching between white and green is chosen to give a sense of vitality. It is matched with the more popular shorts this year. , A black belt, with a breakthrough in the dark color, it is well balanced.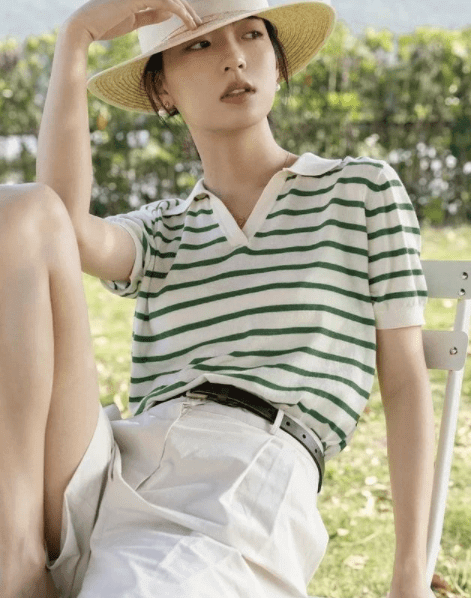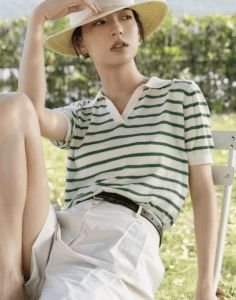 Maybe you are a distributor or online shop seller seeking blank polo shirt wholesale manufacturers, please move to the CONTACT page for great service!
A good style of polo shirt can be worn in a variety of styles, and it is particularly retro. In the case of retro styles, you can try this fashionable single product!